Scott Aerator Skyward Pond Fountain
Details
Floating fountain for use in both ponds & lakes.
Winter-resistant design, the fountain can be left to freeze inside the water.
Quick & easy assembly, just anchor the float and plug it in.
Water cooled, oil-free, zero maintenance motor.

Approved for use in both saltwater & freshwater.
Operates in as little as 36 inches of water depth.
Optional LED lighting kits easily attach to the float, add

 

now or later.
Package includes: The fountain pump, skyward nozzle, fountain float, stainless steel filter and your choice of power cable.
Backed by Scott Aerator's 5-year motor warranty.
GFCI required. Please disconnect power source when swimmers are present. ARL tested and approved to be in compliance with the applicable requirements of UL and the National Electric Code as complete packages.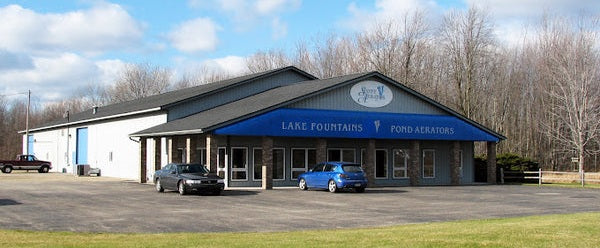 - Manufactured In Michigan.
Scott Aerator Company's main focus is to supply you with the highest-quality pond fountains and aerators on the market.
Located near Grand Rapids on the shores of Lake Michigan, Scott Aerator Company is a family-owned business that provides a convenient source for tested, proven, American-manufactured fountains and water aerators, all guaranteed.
Frequently Asked Questions
The horsepower refers to the strength of the motor. More horsepower will result in a bigger display, as well as increased surface aeration.
If you are looking to make a serious statement, we strongly advise going with a 3 HP motor.
When in doubt, check the fountain sizing guide for our suggestions, or simply give us a call. We're always happy to make a recommendation based on your own unique situation.
The voltage you choose will depend on what type of power source you have set up at your pond.
115V motors will work with any standard residential outlet. But, due to electrical limitations, you will be restricted to no more than a 1 HP motor and 150 FT of power cable.
If you plan to purchase a stronger motor or need more than 150 FT of power cord, you will need to use 230V power.
Typically, this is as simple as swapping out your breaker and outlet receptacle to accommodate the higher voltage.
* Always consult with a licensed electrician.
All of the fountains we carry float in the pond and are anchored in place using nylon rope. The waterproof submersible power cable will run from the fountain's location all the way to your outlet. As long as you already have a power source set up near your pond, installation is very straightforward.
Light kits are not included with the fountains and are sold separately. You can purchase them right away, or add them later if you desire.
We highly recommend them if you want a truly spectacular display! Our customers have consistently expressed that they were worth it.
Scott Aerator fountains are designed to be winter resistant, this makes them virtually maintenance free without any need to remove them from the pond!
When winter arrives, disconnect the power and allow your fountain to freeze inside the water. Once the pond thaws in the Spring, simply reconnect the power and you're good to go!